Welcome to Ethel Phillips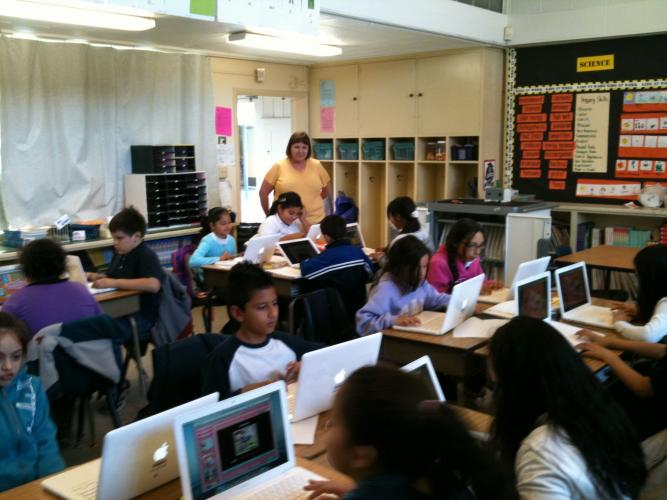 Ethel Phillips is named after one of the early principals and superintendents of Sacramento City schools. Over the decades many changes have come alive, and we want to point out the current status of Ethel Phillips elementary school. Ethel Phillips is a recipient of Quality Education Investment Act (QEIA) grant which is intended to fund schools in Program Improvement to improve the quality of education. One criteria of the grant is to fund small class sizes per grade level. This grant is scheduled to fund small class size until 2014. This is one unique quality that is not found in other schools.
Ethel Phillips is considered a Program Improvement (PI) school in year 5. Since 2004, Ethel Phillips was measured by the state of California with a state assessment known as the CST (California State Test) and was determined as a low performing school (labeled PI). Each year every school in the state takes the same test and is measured again. Each year the school is given a growth target known as Annual Performance Index (API) determined by the CST. Over the past three years, Ethel Phillips' API has grown from 694 in 2007 to 781 in 2010. This growth is a direct result of the many years of hard work from teachers and students.
Along with the higher academic test results, Ethel Phillips has now become host to several academic interventions including but not limited to extended day tutoring and Saturday School interventions. All of these programs are to support students' individual needs which may include fluency practice, knowledge of standards or test taking strategies to name a few. We have also opened up extra-curricular opportunities with sports programs such as Soccer, "Girls on the Run," Basketball, among others.
This year we have also added family engagement night activities thanks to a donation from Target which allowed us to fund several informative and fun nights such as: Math night, science night, standards night, Story reading (through music) and more. Parents are now beginning to utilize the parent resource room which announced its opening in January. We have had presentations for parents regarding communication with children, discipline, self-esteem, immigration laws, and healthy eating as an example.
We hope to see even more growth in student test scores as we have continued to work hard and provided opportunities for all students to grow. We hope to see our students also move on to be high school graduates and successful citizens as we motivate them to set lofty goals and work hard to achieve them.