Social and Emotional Learning (SEL) at Ethel Phillips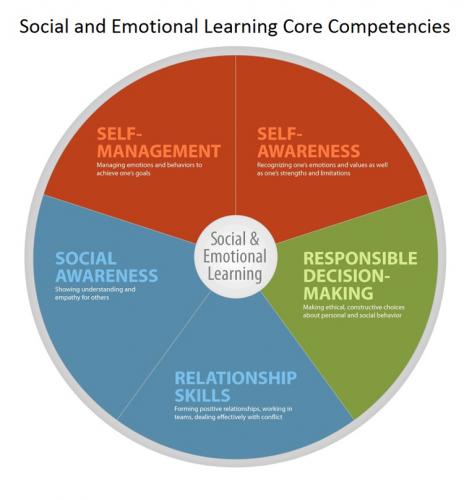 Social Emotional Learning (SEL) is a process for learning life skills, including how to deal with oneself, others and relationships, and work in an effective manner. In dealing with oneself, SEL helps in recognizing our emotions and learning how to manage those feelings. In dealing with others, SEL helps with developing sympathy and empathy for others, and maintaining positive relationships. SEL also focuses on dealing with a variety of situations in a constructive and ethical manner. SEL wants students to be skilled in five areas:
Self-awareness: The ability to accurately recognize one's emotions and thoughts and their influence on behavior.
Self-management: The ability to regulate one's emotions, thoughts, and behaviors effectively in different situations.
Social awareness: The ability to take the perspective of and empathize with others from diverse backgrounds and cultures, to understand social and ethical norms for behavior, and to recognize family, school, and community resources and supports.
Relationship skills: The ability to establish and maintain healthy and rewarding relationships with diverse individuals and groups.
Responsible decision making: The ability to make constructive and respectful choices about personal behavior and social interactions based on consideration of ethical standards, safety concerns, social norms, the realistic evaluation of consequences of various actions, and the well-being of self and others.
We are focusing on making Ethel Phillips an exemplary SEL school, so that our students have a safe and supportive environment to learn and to grow in. Some of the activities we will be doing this year to help implement SEL, include:
2nd Step Curriculum: all classes, from Kindergarten through sixth grade, will spend Monday mornings covering a new lesson from the nationally award-winning 2nd Step curriculum. For more information on the curriculum, see Principal Hernandez, Ms. Liz in the Student Support Center, or your child's teacher.
Great Gatherings: on the first Monday of each month at 8:05am, the entire school will gather for a few minutes to learn and reflect on a value that contributes to SEL and to leadership. Parents are invited to join us!
Monthly "Character Counts" Values: by featuring a new value each month, students learn what it takes to be a strong, successful and contributing global citizen.
SEL Superstar Breakfast: on the last Friday of each month, a student from each classroom will be selected and recognized for their outstanding performance of the SEL competencies for that month. They will be treated to a special breakfast with Principal Hernandez and Ms. Liz from the Student Support Center, and receive a certificate for their achievement.
Parent SEL Classes: these classes will be held monthly, and will allow parents to learn about the SEL concepts their students are working on in class.
And much more!